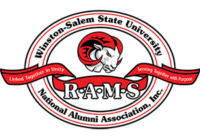 WSSUNAA chapters are continually engaged in the process of seeking qualified students to receive scholarship dollars. We appreciate all of your efforts in this endeavor.
We are asking that you follow utilize the steps to submit your scholarships:
Chapters submit funds and student awardee information by 08/01- Fall Semester and 12/01 – Spring Semester to the 

WSSU Advancement

.
Make Checks Payable to the Winston-Salem State University
Awardee information should include the students' Banner ID
Students receive the funds in a timely manner, Chapter is credited with providing assistance and the NAA receives the financial impact
Your contributions will have a profoundly positive impact on our students. Please mail your Chapter Scholarship check to:
WSSU Advancement Office
Winston-Salem State University
311 Blair Hall
Winston-Salem, NC 27110
Please accept my sincere thanks for all that you do to preserve your memories of WSSU and to keep us moving into the future.
Updated 12.2017